Ddlj is the best ever green romantic hindi movie ever released i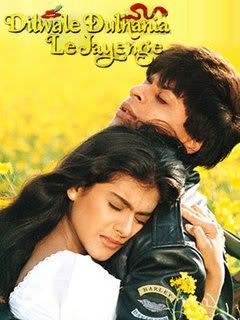 n last 15 year in hindi cinema Bollywood, Earning over Rs 750 million in INDIA and Overseas also biggest Bollywood hits of all time in Indian cinema and become longest running movie in the history of Bollywood and finis its 15 year by completing 750 weeks of continuous play in Bombay theatres.
Its released by producer Yash Chopara and directed by Aditya Chopara in October 1995 with main star cast Shah Rukh Khan as Raj and Kajol as Simaran. First part of the movie beautifully screened in Europe where raj and simaran meet in Europe tour, at end of the tour both are realized they touch each other heart and fall in love with each other also you can enjoy very nice songs  specially ruk ja o dil deewane which is full of masti. The second part of the movie is more interesting, Its screened in Punjab, India with romance, family drama and love. In this part of movie you can enjoy tujhe dekha to ye jana sanam song.  Also You can play and downlaod all movie songs in our website with easily organized lyrics in each page. To listen and play all Dilwale Dulhania Le Jayenge songs click on ddlj songs in right and side menu.
If you all ready watched this movie or plan to watch it then do not forget watch making of ddlj movie and original deleted scenes from the movie. Also you can watch trailer of movie before you can actually see it. If you are really big fan of this movie and want have dvd copy of this movie also you can buy from our ddlj movie section.
Dilwale Dulhhania le jayenge win one National Film Award 1995 and ten Filmfare Awards 1996. The list of awards win by movie are....

Yash Chopara - Best Movie Award
ShahRukh Khan - Best Actor Award
Kajol - Best Actress Award
Aditya Chopara - Best Director Award
Anupam Kher - Best Comedian Award
Anand Bakshi - Best Lyricist Award
Farida Jala - Best Supporting Actress Award
Aditya Chopara, Javed Siddiqi - Best Dialogue Award
Aditya Chopara - Best Screenplay Award
Udit Narayan - Best Male Playback Award
Enjoy full movie with love and romance.